Christmas is next week so it's really time to get going with gifts. Next up is my gift guide to wonderful presents under $75/£75.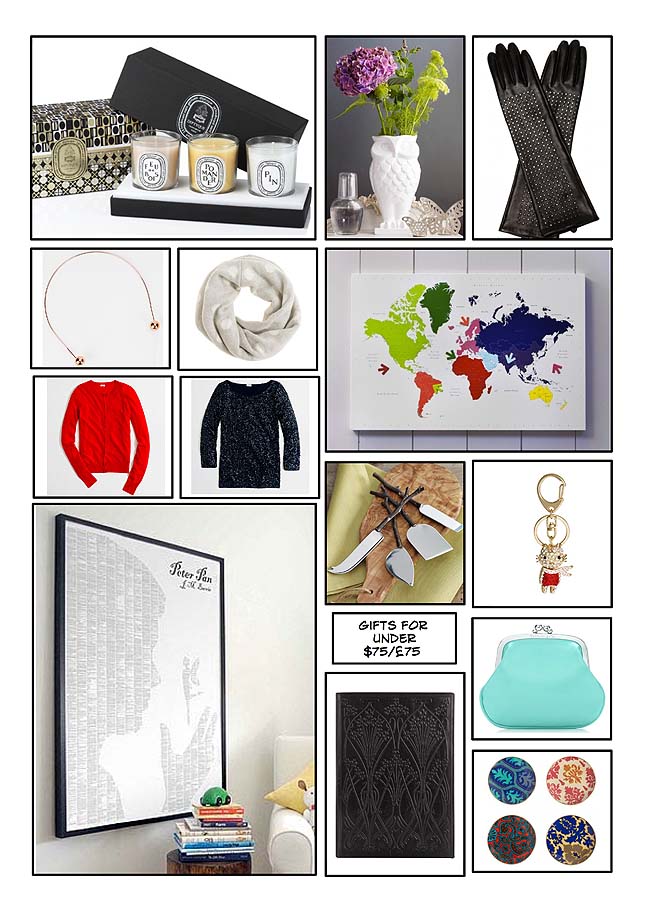 Diptyque Candle Trio £60. The most popular scented candles from the best in the business. Seriously.
Graham & Green Ossie The Owl Vase £45. Cute and quirky, this unexpected flower vase is neutral enough to work in any home but fun enough to make it a unique piece.
Brian Atwood for Target Leather Gloves $50. Yes they're real leather and they're beautiful. I got a pair and love them.
Micro Gem Headphones $28. These delicate rose gold finish headphones are a great way to tune out in style.
J Crew Polka Dot Snood $68. Because in December in a lot of parts of the world, it's cold out there.
Graham & Green Magnetic World Map £69. A fun memo board for the jetsetter or world dreamer, great way to brush up on geography too.
J Crew Red Cardigan $75 now $40. Festive yet versatile enough to be worn year round, this wardrobe staple is a winner.
J Crew Sequin Tee $78 now $68. Tis the season to sparkle and shine and this black tee is a great starting point.
A Book On A Page $68. Seriously, a whole book on one beautifully framed print. All the classics are there, as a book lover I'm in love with this!
West Elm Cheese Knife Set $29. For any cheese lovers you know, this would make a great gift that would get used time and time again.
Love Moschino Key Ring $67. Because you might as well keep your keys on something so fun, pretty and sparkly.
Tiffany Coin Purse $75. It's that much loved shade of blue in the form of a leather coin purse. Love.
Liberty Ianthe Address Book £60. Because sometimes, it's nice to be a little old school about things.
Tracy Reese for Target Set of 4 Dessert Plates $40. The fabulous prints on tiny plates make for brilliant pieces to entertain.