Stripes are the epitome of pulled together style. They're easy to dress or down and in that inimitable French way, they inject just the right amount of je ne sais quoi to your outfit.
As much as I love my more neutral stripes (beige & black, black & white, navy & white), I've found my eye being drawn towards more colourful stripy options for summer. Not too long ago, the Mr gave me a cute top with wide grey and kelly green stripes. Its an unusual combo and not one I've seen before but I absolutely love it.
Here are my favourite ways to earn your fashion stripes at the moment.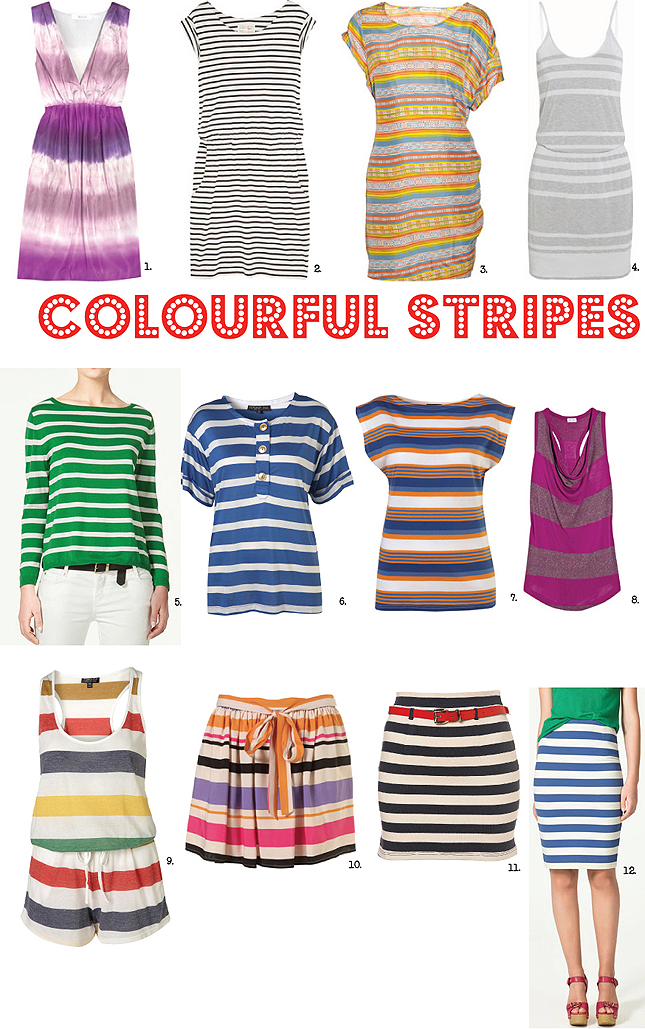 1. Adam Taffeta Dress $365 now 128. The unusual colour of the tie-dye effect stripes make this a great choice for almost any summer event.
2. Aubin & Wills Striped Cotton Dress $100. The black and grey stripes make this an easy go to outfit through the summer season.
3. Twenty8Twelve Meyer Dress $270 now $81. The abstract print and bright colours make this dress a refreshingly fun choice.
4. James Perse Striped Tank Dress $135. I love the mix of wide and thin stripes on this dress. James Perse does some of the best jersey basics around and this is one of those dresses that would get worn time and time again.
5. Zara Kelly Green Striped Jumper £17. A great colour and style at a great price point. What's not to love?
6. Topshop Gold Button Striped Tshirt $50. The chunky gold buttons add a retro glam feel to this basic tee.
7. Topshop 70s Stripe Tee $36. The decidedly old school mix of colours make this silky tee a fabulous laidback yet sophisticated option.
8. Splendid Stripe Tank $63. Magenta is one of my favourite brights and in the supremely soft jersey from Splendid, this is possible my favourite item of my selection.
9. Multicolour Stripe Playsuit $55. Ahoy there sailor! I love a great playsuit and the fun stripes on this one make it such an adorably option.
10. Striped Full Skirt $66. The soft pink background to the stripes on this skirt make add an expected point of interest to this skirt.
11. Navy BodyCon Skirt $56. I LOVE this skirt. Its undeniably sexy in an understated way. Adds some extra va-va-voom to your assets.
12. Zara Striped Skirt £26. A little longer, a little lighter, a little more proper. But still just as sexy.