How can you look at a picture like this and not feel immediately inspired to eat a deliciously decadent lobster salad? I can't. The first time we cooked lobster ourselves at home was for Christmas a couple of years ago. I grew up in England where a turkey dinner is what goes down on Christmas Day but since moving to San Francisco, and wholeheartedly embracing Thanksgiving (a very similar turkey dinner), the thought of two elaborate turkey meals a month apart quickly lost it's appeal. We've pretty much settled on a seafood feast for Christmas Day as our tradition which keeps us happy.
So back to lobster cooking. We bought them live and yep, they're a dark greyish blue when they're alive (Disney lied). One of the huge perks of working in the restaurant industry was when I had a question I could ask one of the many excellent Chefs in the kitchen what to do. Keep them in the fridge/pop them in the freezer for a while before cooking to slow down their nervous system and make the whole process more humane. And then be thoroughly distrubed by the sight of a lobster trying to claw it's way out of the pot.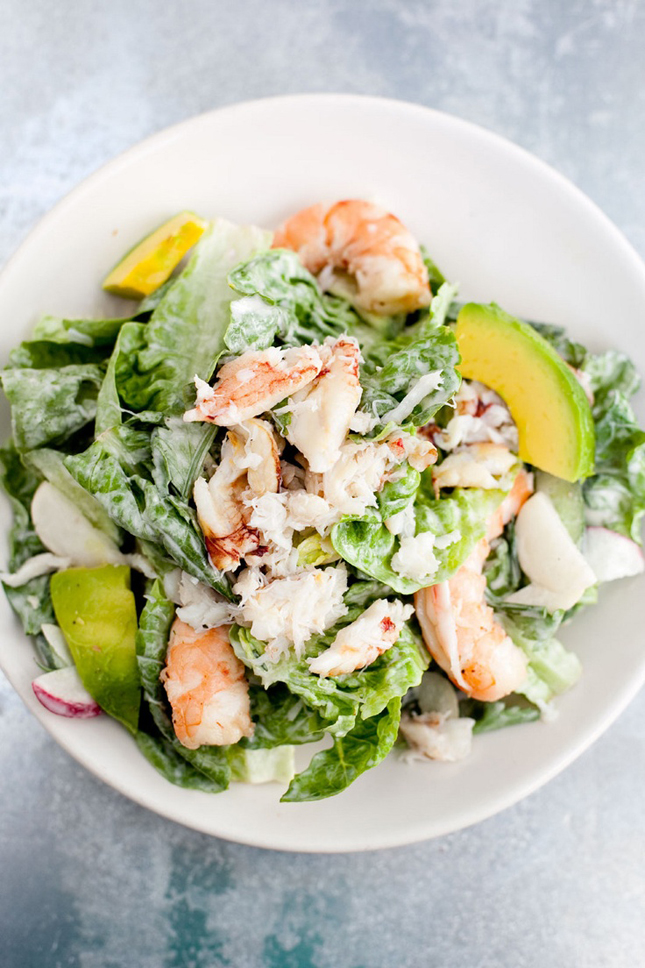 source
Even with an ordeal like that, I would happily do it again to get this salad on a place in front of me. Sometimes with pinterest, the image doesn't link to a recipe so I just improvise. Romaine, avocado, lots of juicy lobster meat and I'd flip the script a little with a raspberry vinaigrette.