I'm certainly a sucker for a sweet spot of wrist candy and it was my bee-yoo-ti-ful Herve Van Der Straten cuff that gave wrist action a whole new level of loving. Belgian born and residing in Paris, Herve has a strong architectural style to his designs which make them striking in the best possible way.
I was doing some freelance work for a jewellery start up and in a rare moment of youthful foresight, I was given the option of payment in cash or trade and I took trade. The cash, I figured would have been frittered away on all manner of frivolities whereas my Herve Van Der Straten cuff, is still one of my favourite pieces in my arsenal. I've had my cuff for about 7 years and I was delighted to note that Herve's designs are now widely available in a range of department stores and jewellers.
Here are some other badass (and luxe) cuffs that have caught my eye.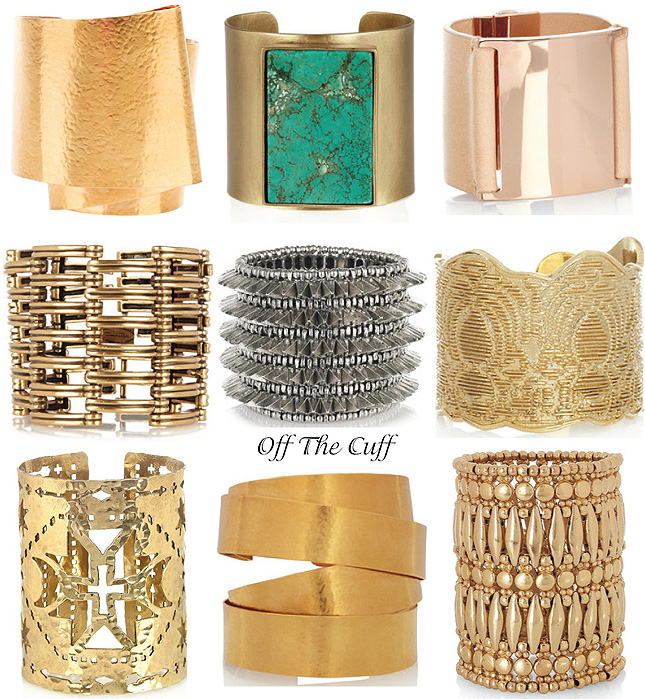 Top Row: Herve Van Der Straten $663   |  Kelly Wearstler $330  |  Maison Martin Margiela $550
Middle Row: Oscar De La Renta $345  |  Philippe Audibert $640  |   YSL Lace Effect Cuff $695
Bottom Row: Pamela Love $625  |  Herve Van Der Straten $455  |  Philippe Audibert $550